Transcend 8gb microsdhc card class 10
Průmyslová paměťová karta microSD UHS-I pro extrémní teploty Ideální pro použití v průmyslu a extrémní podmínky. • Karta průmyslové třídy ideální pro extrémní podmínky• Rozsáhle testovaná pro průmyslové použití• Podporuje rychlost UHS-I třídy U1• Malá velikost Průmyslová paměťová karta microSD UHS-I

Ideal for industrial applications and extreme conditions. Kingston's Industrial Temperature microSD UHS-I has an operating temperature rating of -40°C to 85°C, making it suitable for harsh environments. Its high operating temperature rating means it stands up to extreme heat in the desert and in test and measurement situations where standard microSD cards may fail, while its low operating temperature rating allows for use in below freezing weather, where equipment may be left outside for extend...
RDF9 Taking full advantage of the UHS-II technology, the RDF9 USB 3.1/3.0 UHS-II Card Reader unleashes the high-speed performance of SDXC / SDHC UHS-II memory cards. Equipped with USB 3.1 Gen 1 interface, the RDF9 delivers the blazing fast read and write speeds of up to 260MB/s and 190MB/s accordingly*, facilitating high resolution video and RAW image transfers and post-production processing for professional photographers, videographers and graphic designers. Additionally, it also boasts the Co...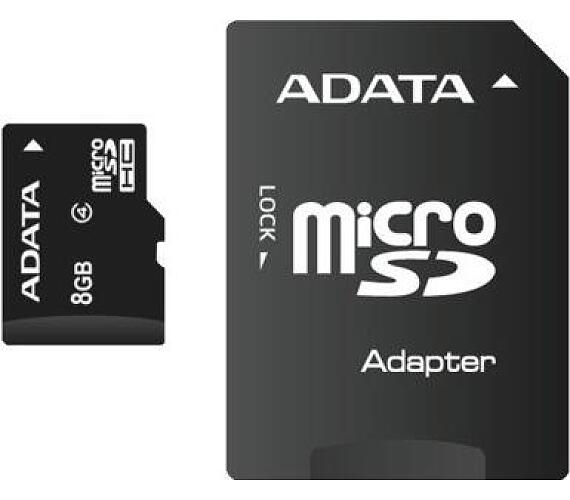 * Kapacita - 8 GB * Rozměry - 15x11x1.0 mm * Hmotnost - 0,25g * Kompatibilita - mobile phone, PDA * Certifikace - FCC, CE, BSMI, VCCI * Rychlost čtení - 10~14 (MB/s) * Rychlost zápisu - 2~5 (MB/s) * Třída - Class 4 * Příslušenství - adaptér Více informací na stránkách výrobce: * http://www.adata.com.tw/index_en.html
Kapacita karty : 8 GBPodporované paměťové karty / typ karty: microSD; microSDHCRychlost zápis (MB/s): 4Rychlost čtení (MB/s): 4Rychlost (x): 4Vysokorychlostní přenos: Class4 (min.4 MB/s)MicroSD High Capacity Vezměte si svůj mobilní svět s sebou. Karty microSDHC nabízejí vyšší ukládací kapacitu pro více hudby, více videa, více obrázků, více her – více všeho, co potřebujete v dnešním mobilním světě. Karta microSDHC vám ve skutečnosti umožňuje maximalizovat využití dnešních převratných mobilních z...
This all-in-one media kit combines a single card with SD adapter and a USB card reader to give mobile users the compatible storage they need for all SD and USB-compatible devices, including mobile phones, digital cameras, notebooks, tablets, e-readers, media players and more. The kit includes one adapters with the microSD or microSDHC card as the centerpiece, giving users the most versatile mobile gear. The card seamlessly converts to a Secure Digital (SD) or USB format that can be used...
Overview The Patriot LX Class 10 MicroSDHC flash memory cards offer blazing performance for mobile devices. The LX Class 10 MicroSDHC memory cards meet the latest SD Association specifications and provide a minimum sustained write speed of 10MB/s. Fast enough to record High Definition video, our LX Class 10 MicroSDHC cards keep up with the most demanding hardware. Patriot LX Class 10 MicroSDHC memory cards are available in 4GB, 8GB, 16GB and 32GB capacities and offer a 5 year warranty. Remove ...